Owner : Sam Foose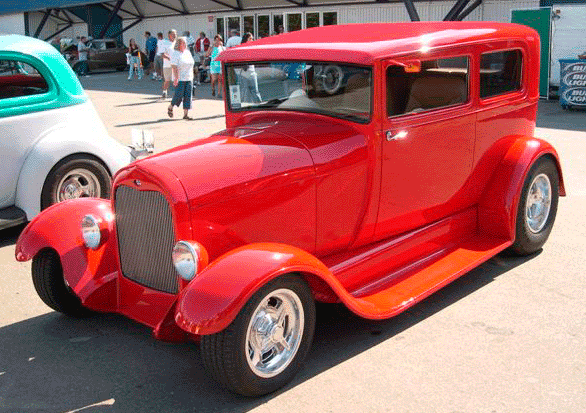 This Ford Model A Sedan built by Sam Foose is owned by Pete DeMaria. This is the first car to have a set of Pilot seats installed, they are covered in MB Tex vinyl as well as the rest of the car. The headliner is a one off with custom overhead console that incorporates the stereo and speakers. The dash has a soft covered panel to integrate the hard painted dash with the rich upholstery. The rear seat is also a one off built to provide the room these cars deserve. The carpet is German squareweave and the dash does have storage tray. Incredibly, there are 6x9 speakers in the rear quarter panels, this can only be done when the interior is thought out as a whole project. The color is Palomino with perforated inserts.
Owners : Ken & Priscilla MacDonald of California Roadster Co.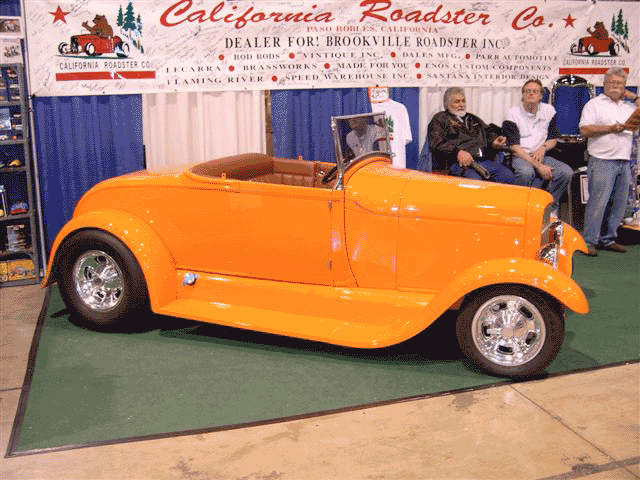 This little Model A went from display body to show car in just a few seasons. Rich did this car to show a style of "kit" that could be had from California Roadster Co. The car features a mega size trunk, mega size leg-room and traditional styling. The car is covered in Mercedes Benz Tex vinyl, with matching perforated inserts. There is a tray under the dash for storage along with a radio and the carpet is bourbon loop Porsche. California Roadster Co is the west coast stocking dealer for Brookeville Steel Bodies, if you are looking for the best steel you can buy, give Ken & Priscilla a call @ (805-227-4969) & tell them you saw their car on our site, they are also dealers for many other parts and products involved with building your street rod or custom.